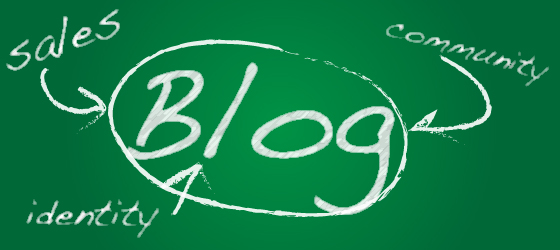 This morning, I'm headed off to New York for the 2012 Blog World conference. Blog World gathers thousands of bloggers together twice a year to meet, share ideas and learn more ways to interact with our readers. Hopefully while I'm there I'll pick up some new tips, gain new knowledge and learn a thing or two about how to make our blog even better.
Does your company have a blog? There are many great reasons why you should start blogging, but while I'm sitting here at the airport, I'll share my favorite three with you:
1. A blog establishes your company's relationship in your community.
It's well worth it to establish your business as an integral part of your community. That community might be located in a very small town, in a larger city or even nation or world-wide. No matter how large your clientele and how far afield your company reaches, you're part of a community.
A blog that is well thought out and that offers content that is helpful and interesting to your customers establishes your company as a valuable, informative member of the community in which your industry resides. While you might write about your products or services, you can also provide value by offering articles about topics that interest your customers. For instance, at Signs.com, we're part of the small business community—we offer products that many small business owners need. So, while I often write articles about signage, I also offer other articles (like this one, for instance) which discuss many small business topics that I think will be helpful to my readers.
2. A blog gives your company a face.
Now that every business has a website, it's easy to get lost in the crowd. But people like to do business with someone they know, rather than just a faceless entity. The best company websites are clean, succinct and simple to navigate. Lots of text all over your homepage tends to distract viewers and turn potential customers away. But the way to let your customers know who you are is through the power of the English language. Without all those glorious words, it's hard to create a warm, personal relationship with your readers. So how can you tell your readers who you are without cluttering your website with tons of text? With your blog, of course!
Here on Signs.com's blog, I can write anywhere from 500 to 1,000 words per article. With that much space, I can impart plenty of information, entertain readers and portray a sense of the company's personality.
3. A blog brings new customers to your site and keeps current customers coming back.
If you have a website, you probably know at least a little bit about SEO (Search Engine Optimization). The better optimized your site, the higher it appears in search results. For instance, if you're a company that sells hot tubs in Des Moines, Iowa, you want your website to show up when a local customer types in, "Hot tubs in Des Moines." One of the best ways to increase your visibility is to have plenty of content on your site. And once you start writing a blog, you'll be amazed how quickly that content adds up.
Like I mentioned earlier, you don't want to just write about the hot tubs you carry.  Provide additional information that will be useful to potential, current and past customers. If I was in the market for a hot tub, I might also be searching on Google for some other related topics, such as:
How do I clean my hot tub?
How much money will I spend in energy costs if I own a hot tub?
How do I determine the right balance of chemicals for my hot tub?
What kinds of decks or gazebos are available?
How can I integrate a hot tub into the landscape design of my backyard?
If you've written articles addressing those questions, there's a much better chance that I'll find your blog (and your company) than if you strictly wrote about selling hot tubs. With all the information available on the Internet, many consumers are doing some research before they head out the door to buy something. Let their thirst for knowledge help you rise in the search rankings. You'll be giving them information they want, and making your presence known at the same time.
One more bonus reason to start blogging: It's fun!
If you're passionate about what your company does (and I hope you are), you'll enjoy writing about your industry and sharing your knowledge with the public. A blog allows you to delve into new trends, gain even more information about the topics that relate to your business and interact with customers, other business owners and colleagues. So what are you waiting for? Start your blog today!