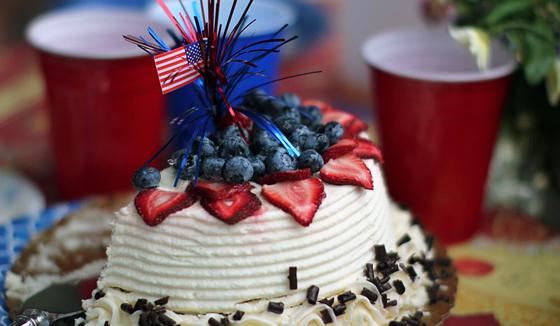 Happy Fourth of July from Signs.com!
It's a great day for parades, picnics and remembering the history of our great nation. We've brought you some great Fourth of July tips to keep you safe, increase your eating pleasure and keep you having fun until the last fireworks fizzle in the night sky.
Stay Safe
Sunscreen up. You're likely to be spending a lot of time outdoors today. Slather on the sunscreen to avoid a nasty sunburn.
Bring the bug spray. As the sun sets, you'll be spreading out your blanket to take in the fireworks. And the bugs will be settling in for a tasty meal – you.
Pack along some water. Dehydration can put a real crimp on your celebration. Make sure to drink plenty of water, especially if it's hot outside.
Separate kids from explosives. Fireworks, matches and kids don't mix very well. Severe burns, eye damage on other gory mishaps can occur when you're playing with fireworks. Keep the matches out of reach, an eye on the kids and a bucket of water handy to douse anything that unexpectedly catches on fire.
Keep food at the right temperature. Those picnic foods are yummy, but they can turn into a gastric disaster if stored at the wrong temp. Keep cold foods cold and hot foods hot and all will be well.
Stay safe in the water. Keep a close eye on kids if you're anywhere near a lake, swimming pool or river. Strap on life preservers while boating.
Drink responsibly. Drinking and driving an automobile obviously don't mix, but neither do drinking and driving a boat. Serious injuries occur when people imbibe too much and get run over by the propellers of the water ski boat. Don't try swimming while drunk, either.
Keep pets safe, too. Pets should stay away from fireworks, lighter fluid, alcoholic beverages, sunscreen and insect repellent.
Pets don't like fireworks. Don't bring them to public fireworks displays. Instead, leave them home in a secure area where they can't hurt themselves or escape.
Eat Well
Start out hot, then cool it off a bit. For the best steak, fire up the grill on "High" and sear your steaks for a few minutes on each side. Then lower the temp to "Medium" and you'll have the juiciest steak of your life.
To grill chicken breasts evenly, pound them out so that they're the same thickness.
Grill meat and veggies on separate skewers. The veggies cook faster than the meat.
Buy the best cuts of meat you can afford. Marinate inexpensive cuts before grilling to keep 'em tender.
Pack desserts on ice. The best 4th of July treats seem to involve chocolate, frosting or frozen items. Pack 'em in the cooler so you can enjoy the fudgy goodness of patriotic-themed brownies – even in 100 degree weather.
Keep food in containers that are water tight. When the ice melts, your food won't get soggy.
Speaking of ice, keep it refreshed throughout the day so stuff doesn't get too hot.
Serve especially hard ice cream by slicing it with an electric knife – much easier than scooping.
To soften hard ice cream, you can also microwave it on 30% power for 20-30 seconds.
Bring plenty of fruits and veggies along. Both contain lots of hydrating water, and you'll feel better on the 5th if you've eaten at least a few healthy items.
Enjoy the Day
Bring an umbrella, even if the forecast doesn't call for rain. Clip it to your parade-watching chair for instant shade. Or bring it with you on the boat for some shade out on the lake.
Cool off with water. If you can't jump in the lake or pool, hook up a sprinkler and run through it (adults too!). Or hook up a mister on the patio and enjoy a cool spray.
Find a nice, cool spot to take an afternoon nap. Then you'll be ready to stay up late for fireworks! Get your toddler to join you in your shady rest spot, too.
Have cash on hand. Vendors selling soft drinks and snacks along the parade route usually accept cash only. You don't want to miss out on the snow cones for lack of a dollar bill.
Pack handi-wipes. You can easily wipe off sticky kids' faces and hands, and dad might need a handi-wipe after that cotton candy.
Get there early. Avoid traffic to the parade, park, pool or lake by arriving early. You'll be less stressed . . . and you'll have the best spot!