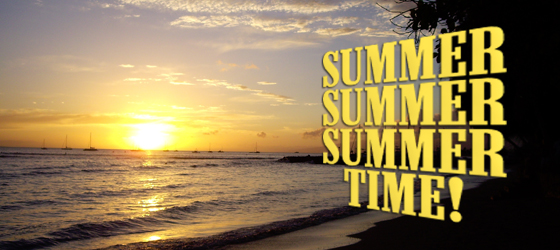 If your business is strictly seasonal, you're probably already planning to post job ads, interview and hire staff in anticipation of opening day. But even if your operation is year-round, you still need think about the impact of summer on your business. Here are some great business tips to help during the warm summer months.
Make Way for Kids
Even if your business isn't geared toward kids, you're going to find many more of them visiting your establishment during summer months. This can wreak havoc on your shop if you're not ready.
1. Install a play area with toys and video games, so that parents can shop without distraction. If your business attracts lots of shoppers with children, it might even be worth the money to hire a teenager to play with the kids.
2. Offer child-sized shopping carts and baskets so that kids can "help." It's a good way to distract little ones and add extra items to their parents' purchase.
3. Summer is a great time to offer extra products geared toward kids. Parents are always looking for ways to entertain their little darlings. Place a seasonal rack of summer toys such as frisbees, soap bubbles and sidewalk chalk near the register. You might turn enough of a profit to send your kid to camp and get him out from under your feet.
4. Some businesses already sell child-related merchandise or host events for kids and can profit by offering even more during the summer. My local craft store has a whole aisle dedicated to kids' crafts and holds Saturday classes in painting, pottery, knitting and more. During summer break, more classes are offered during the week. This provides kids with some entertainment, and the shop sells tons more children's craft items, too.
Take Your Business Outdoors
Everyone prefers to be outdoors when the weather is nice. Adjust your business so that you can accommodate a beautiful summer day.
5. Open your front door and windows if you can so that you bring that delicious smell of summer into your shop.
6. Host a sidewalk or tent sale so that customers can peruse merchandise outside.
7. Host a community event such as a picnic, BBQ or street party. Invite your loyal customers and have them bring a friend or two.
8. Participate in your community fair, art festival or farmer's market. Sell your merchandise, or just put up a booth with some promotional items to make potential customers aware of your business.
Offer Summer Goodies
Take advantage of all the best things about summer: warm weather activities, extra leisure time and tasty treats.
9. Summer is a time when people are on the move – provide them with some promotional summer merchandise that will advertise your business everywhere your customer goes. Tote bags, frisbees, beach balls and t-shirts can all be printed with your business logo.
10. Contribute to community events by including them in your marketing. Purchase tickets to local baseball games and give them away to customers, participate in 10k and marathon runs for charity, donate equipment to local soccer leagues. Arrange to display a banner or sign with your company info at the event.
11. Give summer goodies to customers. Send them out the door with a popsicle, cold soda or ice cream sandwich. If you'd rather not offer food, give away single flowers or promotional toys.