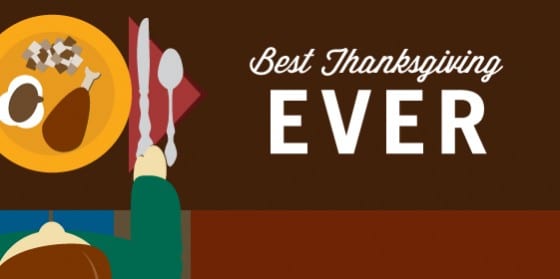 Thanksgiving is my favorite holiday of the year. I love gathering with family members and catching up with relatives I don't get to see very often. I love the warm colors of the decorations and the delicious smells emanating from the kitchen. And the food? Well of course there's the fabulous food. Any holiday that features mashed potatoes is a holiday I can really get behind. But Thanksgiving can be kind of overwhelming when you're the host. There's so much to do and there's a little bit of stress involved. But it doesn't have to be that way… here are 10 ways to make this Thanksgiving the best ever.
1. Delegate.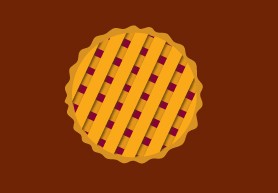 There's a lot to do to get ready for the big dinner. Shop, clean, decorate, cook. Do you really have to do it all yourself? No. No you don't. Delegate tasks. Get your spouse out of the recliner and into the kitchen. Call your sis and have her stop at the store to get some of the ingredients. Rally the kids to pull out the Thanksgiving decorations bin and start fancying up the dinner table. And call your mother-in-law and ask her to bring her famous sweet potato pie; she always complains that you can't make it right anyway.
2. Manage expectations.
If you're hosting dinner, you might be feeling a bit overwhelmed. There's so much pressure to make everything perfect. You spend all day Wednesday scrubbing every surface in the house, creating detailed cooking schedules and pre-making half the dinner. Ease up a little already.
Your family doesn't expect perfection—they just expect some turkey and potatoes. And if they do expect perfection? Let them host the dinner! So relax a little. The house doesn't need to be spotless; your sister's kids are going to trash the family room and bathroom within 20 minutes of their arrival anyway. The gravy doesn't have to be completely lump-free; once people put it on their potatoes they won't be able to tell the difference. And the pie crust? Well the pie crust does have to be stellar. If you don't have the pie-crust talent, order some from the local bakery. I won't tell.
3. Start a new tradition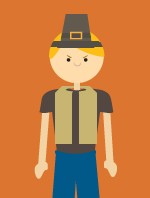 Ten years ago everyone thought it was a blast to make pilgrim and Native American costumes out of brown paper grocery sacks; now you're greeted by groans and eye-rolling when you bring out the magic markers. Some traditions get started when the kids are little and never get revamped for the young adults they've become.
Start something new this year, and keep in mind the ages, desires and capabilities of your family members. Maybe they'd rather go snowboarding. Keep in mind that traditions are supposed to be cherished family events. If everyone hates the tradition, what's the point? Call a family meeting and get ideas from those involved; that way, everyone has a good time and you've started a tradition that will last for years (or at least until the kids hit another life phase).
4. Invite Someone New
New year, same old faces. OK, so they're faces you love. And those loved ones make for a great party. But you know what else makes for a great party? New people! Bring some new conversation to the table.
Every year, there are people who are separated from their families during Thanksgiving weekend. Are there people at work who just transferred to your city? Are there nearby college students who won't be able to go home for the holiday? Or are there just some people who don't have extended family around and will be cooking Thanksgiving dinner for two? Ask around—you might be surprised at the number of Thanksgiving guests you can add to your table.
5. Get a little exercise.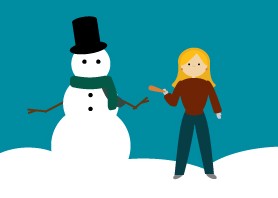 There's nothing like a huge meal to make you exhausted and bloated. You know what helps the after-Thanksgiving stupor? Exercise. Bundle up and go for an after-dinner walk. Get some teams together and play touch-football. If you're lucky enough to have snow on the ground, you can build a snowman, have snowball fights or construct a fort.
6. Get everyone involved in the dinner prep.
This is kind of like delegating (see #1), but in this case, we're focusing on that crazy fifteen minutes right before dinner is served. Thanksgiving dinner is tough. The turkey needs to be carved, the gravy is a last minute make-it-and-serve-it-immediately item, the vegetables must be steamed and served while they're hot …and don't forget to take the rolls out of the oven before they burn!
Even the most experienced cook can have difficulty getting everything ready at once and remembering all the tiny details. Give everyone a specific assignment: Aunt Mary is in charge of getting the rolls out of the oven. Cousin Brad is in charge of stirring the gravy and transferring it to the gravy boat at just the right moment. Your husband is on the turkey carving while you steam the veggies and put them in serving dishes. If everyone works together you can get all the dinner items on the table at once (and they'll all be hot!)
7. Play games.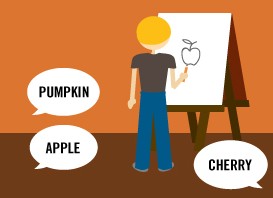 I know, it sounds corny. But once you get into it, you'll find that your family has fun playing games together. The trick is to find the right game. Families with introverts won't be keen on Charades, but they might like trivia games. Others will have a blast playing Pictionary or Twister . Get out the Wii or XBox and host some tournaments.
8. Turn the cell phone OFF.
Probably not an idea that will be popular with the teens and young adults, but something that should happen in every household on Thanksgiving (at least in my opinion).
Thanksgiving is about spending time with loved ones. The loved ones who are sitting across the table. Texting during dinner is not OK. Get everyone to focus on the here-and-now. Perhaps your teen will die if she can't check her Facebook status every 10 minutes, and your brother-in-law's business will definitely crash if he can't check the analytics on his website between dinner and pie. But really? Let's declare a brief moratorium on all things cell phone for a few hours. Try it. I guarantee it will make your Thanksgiving better.
9. Mitigate family tension in advance.

Let's be honest: most families aren't the Cleavers. There's usually some combination of family members that ends up being toxic. You know who they are and which touchy subjects should be avoided. Family strife and tension makes Thanksgiving miserable for everyone, so mitigate it in advance.
This year, have some conversations with family members and set some ground rules. If Cousin Jane is super conservative and just signed a succession petition and Cousin Bob was the President of the local chapter of the Obama fund-raising campaign, perhaps politics is a no-no at the dinner table this year. Or maybe everyone should agree to stop discussing Uncle Milton's history of criminal activity because it upsets Grandma. Whatever the issues, get everyone agree to drop them for Thanksgiving.
10. Volunteer
Thanksgiving is a time to reflect on how grateful you are for the things you have. And it's also a time to remember that not everyone is blessed with your bounty. This year, do something a little different. Contact your local homeless shelter or soup kitchen and volunteer to serve Thanksgiving Dinner to others. Visit an assisted living facility or nursing home and volunteer to read or visit the people who aren't lucky enough to be spending the day with family.
This is the time of year that elderly neighbors can use some help, too. Shovel driveways and walks and see if anyone needs help hanging Christmas lights or putting up decorations.
At Signs.com, we'd like to wish everyone a very Happy Thanksgiving! We hope your day is filled with family, friends and fabulousness.