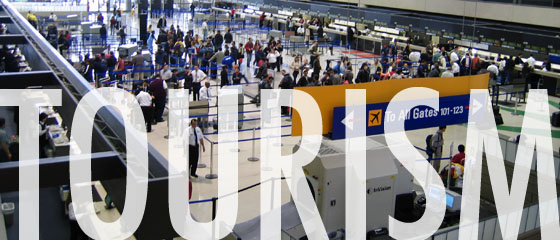 Some towns live and die by the activity of summer tourists; others merely enjoy the bounty of extra cash flow during the warm months of the tourist season. If your business is located in a tourism-reliant town, you're probably always more than ready for the big in-migration of dollars. But the rest of us might benefit from thinking about the ways in which tourists impact our town – and, as a result, impact our bottom line.
In the United States, tourism peaks in the summer months of June, July and August. The kids are out of school and people take their vacation days at work. Lots of vacationers head for locations like Disney World, the Grand Canyon and Yellowstone. But others go to everyday cities in order to visit family, or stop by because of airfare deals or on their way through to somewhere else.
Here are some ways to capitalize on tourist dollars – even if you're not located in a traditional "tourist town."
Find out where visitors stay while they're in your town. Identify the most popular hotels for your demographic – business travelers tend to stay in different hotels than families, for instance.
Identify the places people visit while they're in your town. What kinds of things are they doing? Do they go to art museums, zoos, parks? Are they hiking, cycling, hanging out at the beach?
Check out your town's calendar of events. My tiny town hosts a huge car race and several motorcycle races every summer. Normally not a "tourist town," the place fills up with racers and fans for several weeks.
Contact the Chamber of Commerce to see when conventions will be held in your town. Your local Board of Tourism may have this information, too. Conventioneers come with plenty of spending cash – much of it in the form of corporate credit cards, so the money flows pretty freely.
Identify the kinds of things that visitors want or need while they're in your town. If families come to hang out at the beach, they'll need sunscreen, hats, beach towels and sand toys. If businessmen come for conventions, they might spend money on clothing, food and entertainment.
Set up your business to accommodate visitors. In the case of events or conventions, make special signs welcoming guests. If appropriate, place items for tourists on the sidewalk in front of your store, or just inside the front door. Advertise that those items are available.
Don't forget the local merchandise. No matter who is visiting, odds are that they'll want to take home a souvenir and maybe some gifts for family and friends. If your store will get tourist traffic, offer locally made goods and souvenir mugs, magnets, etc. Match the price point to the prices of the goods you normally carry. For instance, a convenience store might carry low-priced magnets and hats; a more upscale gift shop or clothing store might carry higher-priced shirts, jackets, framed prints, etc.
If your shop is nowhere near hotels or attractions, don't despair. Place advertising in those locales. For instance, you can become a patron to the art museum or zoo and place an ad in their brochure. Or, install a billboard near popular hotels, alerting tourists to your store several blocks away.
Participate in events that bring tourists. Signs.com is located in Salt Lake City, Utah. Every weekend during the summer, downtown Salt Lake hosts a very popular Farmer's Market. Booths include the typical farmers' wares such as fruits, vegetables and honey, but also feature local artisan crafts.
Participate in convention expos and market yourself as local. When conventions come to town they usually set up an expo floor featuring companies that offer products that attendees need. Set up a booth and make sure to include your local location in your advertising. Invite attendees to visit your business -perhaps even host a party or special sale.