Posts Tagged
Product News
The All New Signs.com Officially Launches
It's a huge day for us here at Signs.com! This morning, we announced the full release of our brand new website, which includes features like a full-service e-commerce platform, online design tool and personalized design services and support (read the press release here). The new website is designed to offer our customers a best-in-class experience when shopping for signage online. continue reading…
World Communication Design Day 2012

A couple weeks ago we posted an article on National Grilled Cheese Day. Hopefully those that read it got a great recipe for a killer grilled cheese. We also included some other crazy holidays but as we researched celebrations in April, I saw that today is World Communication Design Day.
Yarn Signs: Signs.com Announces New Product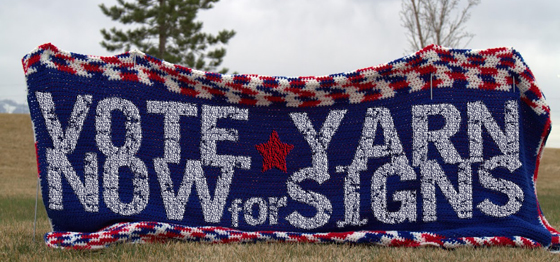 Signs.com is proud to present our latest offering: hand-knitted banners and yard signs. Studies show that customers prefer businesses who offer a personal touch. You can convey a sense of warm, cuddly customer service with these custom yarn signs. We offer an array of colors and yarn types to suit any kind of business.